Faculty & Staff Magis Immersion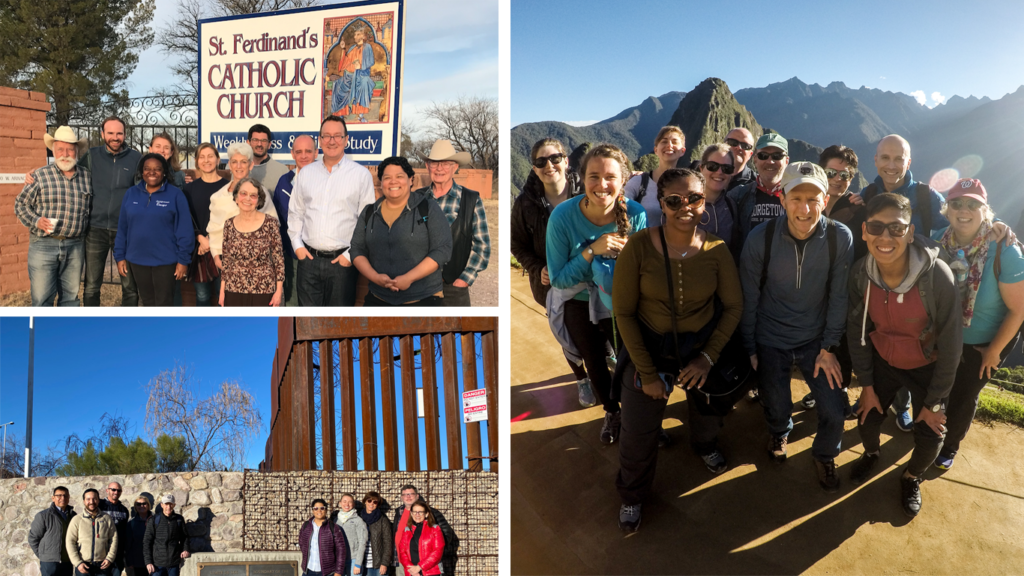 A collaboration between the Office of Mission and Ministry and the Center for Social Justice Research, Teaching, and Service (CSJ), Magis Immersion programs are short, in-depth learning experiences for faculty and staff through which participants connect to and reflect on their personal roles in Georgetown's Catholic and Jesuit identity and mission.
Through these experiences, Georgetown seeks to:
Connect individual faculty and staff, both to each other and within the network of Jesuit institutions worldwide;
Provide opportunities for members of the Georgetown community to reflect on the Jesuit commitment to "the service of faith and promotion of justice";
Strengthen and expand relationships with partners, the Universidad Antonio Ruiz de Montoya in Lima, Peru (UARM), and the Kino Border Initiative (KBI) in Nogales, MX, and Nogales, AZ
MAGIS: KINO
A 4-day immersion over the MLK Jr. holiday, this immersion at the US/Mexico border is an experience of bearing witness to and walking in solidarity with the experience of migrants.
About KBI:
As stated in its mission, the Kino Border Initiative works to: "promote US/Mexico border and immigration policies that affirm the dignity of the human person and a spirit of bi-national solidarity through direct humanitarian assistance and accompaniment with migrants, social and pastoral education with communities on both sides of the border, and participation in collaborative networks that engage in research and advocacy to transform local, regional, and national immigration policies." KBI describes the immersion as a first-hand learning experience "intended to humanize the immigration issue and to recognize its complexity while emphasizing accompaniment of people on their journey." This journey prompts Georgetown community members to reflect on the ways in which the university community recognizes and supports the immigrant experience on our own campus and in Washington, DC.
History:
Magis Kino grew out of an existing CSJ and Campus Ministry immersion program for students (learn more through this Georgetown magazine article), and builds on the legacy of the Kenya Immersion and Peru immersion programs for faculty and staff.
MAGIS: PERU
A main focus of the 10-day program is participant reflection on the meaning of our own work at Georgetown in light of the worldwide Ignatian commitment to excellence in education and the promotion of justice. All participants commit to 'bringing' the experience back to Georgetown and their own communities in a tangible way. Participation in Magis Peru includes four pre-immersion community gatherings and reflection and a post-trip gathering.
About UARM:
Opened in 2003, the small and vibrant UARM emerged from and continues the 400-year-old tradition of Jesuit education in Peru, uniting the rigorous education and training efforts of the Peruvian Jesuit community with the goal of empowering students to make active and responsible contributions to societal transformation in Peru and the world. UARM frequently partners with international university groups, welcoming them to Peru and introducing them to the mission of the Peruvian Jesuit community and the work of many of its partners. Magis participants are invited to learn through experience about Jesuit approaches to education, scholarship, and solidarity with marginalized communities through the lens of 'faith that does justice.'
History:
The program builds on the legacy of Georgetown's immersion program in Kenya that occurred annually from 2004 to 2013, with over 100 faculty and staff participants. Georgetown began an annual Peru immersion in 2015. In 2018, Georgetown welcomed faculty and staff from UARM to Washington, DC for a reciprocal immersion experience.
For more information, contact:
Amanda Munroe, Assistant Director for Mission Curriculum Integration, Center for Social Justice Research, Teaching & Service. amanda.munroe@georgetown.edu or (202) 687-6282